(Four news articles about Kevin Zegers from 1997 and 1998. )
Young actor Zegers honored with YTV award nomination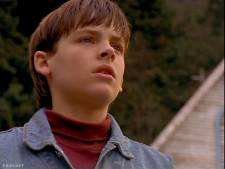 Air Bud

By Noel Gallagher
Feb 3, 1998,

Free Press Entertainment & Lifestyles

Reporter

Woodstock's Kevin Zegers was "very surprised" to be named one of 10 finalists for a YTV Achievement Award in the young actor of the year category.

"It's a big honor just to to be nominated," says the 13-year-old performer of the television award, the winner of which will be announced Feb. 14.

Zegers has been much in demand since starring in Air Bud, last summer's hit Disney movie about a basketball-playing dog. He spent last summer in England playing Jim Hawkins opposite Jack Palance's Long John Silver in a remake of Treasure Island; completed Nico the Unicorn with Anne Archer and Michael Ontkean and was in Los Angeles for three weeks in December filming It Came from the Sky (co-starring John Ritter and Baywatch star Yasmine Bleeth), which he calls his "most enjoyable" acting experience so far.

His acting credits also include a role in the Michael J. Fox movie Life with Mikey and TV guest spots on The X-Files, Goosebumps, Avonlea, Street Legal and a recurring part on Traders.

"It's not that I have this special talent for acting. It's all these people I work with who teach me," explains Zegers, a Grade 8 pupil at Holy Family French immersion school in Woodstock.

He adds meeting interesting, new people is the best part of his screen career, while being away from his family -- parents Jim and Mary Ellen and sisters Krista and Katie -- is its most difficult aspect.

"It's excellent news," says Mary Ellen Zegers of her son's award nomination. "Kevin's a good kid who works hard and is very well-behaved and I think those are the qualities that have kept him working."

The YTV awards, presented in association with CIBC, recognize exceptional accomplishments of young people in 15 categories, ranging from innovation to bravery. Award winners receive a $3,000 honorarium and an all-expenses-paid trip to Ottawa and then Toronto for the live broadcast of the awards presentation ceremony on YTV, April 19 at 7 p.m.

Meanwhile, Kevin leaves home again Sunday for a three-month stay in Vancouver, filming the sequel to

Air Bud

, which will reunite him with his favorite canine co-star Buddy.

"He taught me how to play basketball," quips the Oxford County teenager.




Dog days on the court



By LOUIS B. HOBSON
Aug 6, 1997,

Calgary Sun




Boy does Kevin Zegers have a shaggy dog story or two to tell.

Last fall, the 13-year-old Ontario boy filmed the family comedy Air Bud.

His co-star was a golden retriever named Buddy who is such a incredible basketball star that he's gone one-on-one with Kareem Abdul Jabbar.

Buddy is also a regular on

Late Night With David Letterman

.

In

Air Bud

, Buddy plays an abandoned dog who bonds with Zegers' lonely, fatherless boy. The two eventually lead the school basketball team to victory.

"When Buddy is playing basketball, he's not like a dog at all. He's super focused on the ball. He loves shooting baskets," explains Zegers in a phone interview.

"The very first time I met Buddy, his trainer threw him the ball and he sunk it in the basket. I was amazed."

After a little gentle prodding, Zegers reveals the truth about Buddy's skills.

"What Buddy is really trying to do is bite the ball. He loves popping basketballs.

"The trainers grease up the ball so that he can't get a real grip on it. They throw the ball to him. He snaps it and it flies out of his mouth."

Zegers says to listen carefully each time Buddy makes a basket.

"You can hear an audible snap. That's his teeth hitting when the ball flies out of his mouth."

Even Buddy doesn't sink a basket every time out: "Some times it took 20 tries for Buddy to get the ball in the basket. It's more the trainers' faults than Buddy's.

"They have to throw the ball right to the centre of his mouth. If they toss it off centre, Buddy shoots it off centre."

Buddy only plays with the best basketballs so it caused quite a bit of pandemonium after every shot.

"The balls cost about $300 each so the movie company wanted to save as many of them as possible.

"Buddy would chase after the balls to pop them and the cast and crew would chase after Buddy to prevent him from getting the balls.

"We've got about three hours of hilarious outtakes of all of us chasing Buddy and the basketballs."

Air Bud is Zegers' first starring role. However, he has had cameos and supporting roles in

Thicker Than Blood

with Peter Strauss,

In The Mouth of Madness

with Sam Neill and

Life With Mikey

with Michael J. Fox.

Zegers leaves for England next week to begin filming

Great Expectations

(sic). He'll be playing Jim Hawkins to Jack Palance's Long John Silver.

Zegers feels he owes his busy film career to an episode of The X-Files in which he plays a young boy who manifests the wounds of Christ.

"It's a really popular episode that has been rebroadcast each Christmas since we made it. That's what gave me my biggest exposure."




Kevin Zegers courting stardom





The Woodstock child actor's credits include the X-Files, the new Disney movie Air Bud. The 12-year-old's next role is opposite Jack Palance in Treasure Island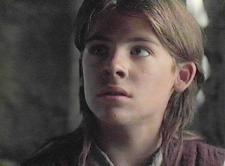 Treasure Island

By JOE MATYAS
Aug 1, 1997, Free Press Arts & Entertainment Reporter


At home in Woodstock, his friends call him "Kev" and treat him as one of the guys.

In the world of movies, he's a hot young actor riding an incredible rocket.

Kevin Zegers, 12, is the human star of Walt Disney Pictures'

Air Bud

, a new flick about a lonely boy in a new town and a stray dog with a wicked basketball hoop shot.

As the film opens today across North America, Kevin will be in England under the watchful eye of his mother, Mary Ellen, starting work on a remake of

Treasure Island

with crusty Jack Palance. He'll play Jim Hawkins opposite Palance's Long John Silver.


CHILD MODEL

The Oxford County boy has come a long way in five years since he was invited to participate in a fashion show in London as a child model.

A few fashion shows later, he was talking about making movies with such enthusiasm that his parents decided to nurture his dream.

"We thought it was far-fetched, but we hired a talent agent in Toronto and Kevin was picked for a television ad during his second audition," said his father, Jim Zegers, a long-time quarry worker.

After that, mom and dad were driving Kevin to Toronto frequently for auditions and their son was selected for jobs more often than not.

"He did about 30 commercials and then other kinds of work started coming his way in television," said his proud father.

Kevin won guests spots on the

X-Files

,

Goosebumps

,

Avonlea

and

Street Legal

and a recurring role on the TV series

Traders

. He was also the regular voice of a dolphin on the cartoon series based on the movie,

Free Willy

.

"It all happened very, very fast and we had no idea where it was going," said dad.

The X-Files spot was a big one because it gave Kevin exposure in the United States and led to his first feature film in Touchstone Pictures'

Life With Mikey

.

Another Canadian actor, Michael J. Fox, starred as the title character and Kevin was cast as Mikey when he was young.

"Kate Jackson liked what she saw of Kevin and cast him in two movies, including one in which he played an autistic child (

Silence of Adultery

)," said dad. "Kate was very good to Kevin and the family. She took us under her wing and into her home."

As Kevin made more movies, his parents insisted that he keep up with his studies.

He has continued to be enrolled in St. Rita's French immersion school in Woodstock and be assigned school work by his teachers.

Contracts involving child actors provide for time every shooting day for education by tutors.

"The tutors have made sure Kevin has completed the course material assigned by his teachers," said dad. "He's kept up with his class and has managed to get straight As."

Jim Zegers said Mary Ellen has accompanied Kevin on many jobs and provided parental guidance.

"She's a hair-dresser and she's had some flexibility in her job -- more than I've had."

Kevin is quick to acknowledge the role his parents have played in his success.

"I couldn't have done anything without them," he said. "I've heard myself starting to talk big-headed in front of people and then my mom will come and tell me to stop. In front of people. It embarrasses me, of course, but somebody has to do it sometime."

Kevin said his acting career is no big deal to his friends because he's had the same classmates and buddies since starting school.


ON THE ROAD

"My leaving school to do a movie is just like them leaving to go to a hockey tournament," he said.

Kevin has just completed Grade 7, excelling in math, science and both official languages.

His career has provided unexpected benefits to his sisters, Krista, 14, and Katie, 11.

"We've been to Los Angeles, Montreal and Vancouver because of Kevin and we'll be going to England soon," said Krista. "The film companies fly us over to visit him."

Krista said it was a thrill to be on the set at first, but now she enjoys her off-set visits with her brother best.

"Being on-set is kind of boring," she said. "It takes so long to get things right. They do things over and over again. It's hard work."

So far, Kevin has been up to a work load which has included parts in feature films with Robert De Niro (

Great Expectations

), Sam Neill (

In the Mouth of Madness

) and Peter Strauss (

Thicker Than Blood

).

(NOTE: Kevin Zegers was not in

Great Expectations

; that was Jeremy James Kissner.)

Kevin said he wants to continue acting, but also attend medical school some day.

The young phenomenon recently completed Nico the Unico with Ann Archer and Michael Ontkean and A Call to Remember with Blythe Danner.

He's slated for the lead role in a feature based on Bram Stoker's

The Shadowbuilder

and for another in

It Came From The Sky

with John Ritter and Yasmine Bleeth.

"She's on

Baywatch

," said Kevin. "All my friends are asking if they can come with me."

With such roles awaiting, medical school may have to wait.

Jim Zegers said the family has no plans to move to California.

"When they know who you are, you can live anywhere," he said. "We think it's important for Kevin and the family to be grounded and so we're staying here for now."

With files from

Sun Media Newspapers

writer Liz Braun




Actor with manners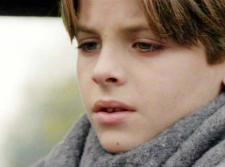 The X-Files

By LIZ BRAUN
Jul 31, 1997,

Toronto Sun



Actor Kevin Zegers is a showbiz veteran with a dozen movies under his belt and a TV career that includes a regular role on

Traders

and appearances on everything else from

Goosebumps

to

The X-Files

.

All this from a guy whose voice hasn't broken yet.

And who lives in Woodstock, Ont.

Zegers, who will be 13 in September, is about to become a major teen heartthrob. He is, in no particular order, bright, handsome, articulate, polite and entirely professional, qualities that will be coming soon to a theatre near you thanks to his starring role in Air Bud, which opens tomorrow.

Though he co-stars in

Air Bud

with a scene-stealing golden retriever, Zegers holds his own as a lonely kid who moves to a new town and tries to find acceptance.

Fatherless and shy, Zegers' character befriends a stray dog who proves to have basketball skills. Yep, the hound can bounce a ball into the basket.

Air Bud is family fare about friendship and being part of a team. And it has already won Zegers a mention in

Teen Beat

. The magazine is lying on a coffee table in Zegers' Toronto hotel room, where we met him this week to talk about

Air Bud

.

Disney,

Teen Beat

, an upcoming trip to England to play Jim Hawkins in

Treasure Island

-- opposite Jack Palance.

Is he ready for this?

"I don't know," says Zegers, modestly. "I guess so. I hope so." He smiles. Those dimples.

Zegers began working in commercials and TV shows when he was six years old. His success, he explains, is no big deal around his friends, since he's had the same classmates and buddies for years.

"My leaving school to do a movie," he states, "is just like them leaving to go to a hockey tournament."

He'll go into Grade 8 this fall at a local separate school. Zegers is in a French immersion program, where he excels at math and science, and in both official languages.

The middle of three children -- he has an older sister and a younger one -- Zegers recently completed a film called

Nico The Unicorn

. Ann Archer plays his mother.

"I did a school project on her," he says, "but I had to do it in French."

Zegers offers a complete plot outline of

Nico The Unicorn

with charm and enthusiasm. Telling of his daring escape on a unicorn, he says, "And this is all bareback, by the way, and galloping." Without guile, he adds, "You might want to write that down."

The young actor credits his success to good luck and the influence of his parents.

"I couldn't have done anything without them," he says. "I've heard myself starting to talk bigheaded in front of people, and then my mom will come and tell me to stop. In front of people. It embarrasses me, of course, but somebody has to do it sometime."

Short-range, Zegers is really looking forward to filming a new movie in Los Angeles called

It Came From The Sky

with John Ritter -- and Yasmine Bleeth.

"She's on

Baywatch

," says Zegers, grinning. "All my friends are asking if they can come with me."

Long-range, Zegers hopes to continue acting, but also attend UCLA medical school one day.

When it's time to say goodbye, Zegers shakes hands firmly and makes eye contact and smiles. Those dimples.

Then he moves toward the adjoining room where his mom is waiting for him, and he opens the door.

But not without knocking first.